Team Psykskallar are the developers of Cry of Fear.
The team was created by ruMpel and Minuit. The team's name is translated to Team Sickheads (with a playword were sick sounds as psych). They also developed Afraid of Monsters DC and created almost everything in Resident Evil: Cold Blood.
Note: To clarify any doubts you might have, Afraid of Monsters DC was developed by Team Psykskallar, the original Afraid of Monsters was made only by ruMpel.
Current Members
Guests
Aina Hatlevik: Voice Actor (Sophie)
Ian Wiese: Voice Actor (The Cops)
Acidsnake: Weapon Skinner
Szliajmaggot: Boss Modeller/Skinner
Milo: Weapons Modeller/Skinner
Muddasheep: Music/Beta Tester
ToTac: Website Desing/HTML & CSS
Former Members
wornz: NPC Modeller/Skinner
Sporkeh: Weapon Modeller/Skinner/Animator
Trivia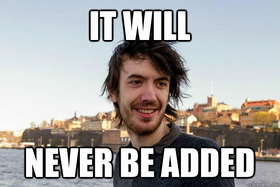 A picture of Minuit is used as a meme in the Cry of Fear website forum. It's a picture of him smiling with a text that says "It will never be added". This meme is commonly used as a reply to any request that would somehow ruin the game, not being beneficial for anyone, like more firearms, reduced difficulty or any "Call of Duty based mode".
DragonNOR also has a meme of his face with an awkward smile (no text added) which is used as a smiley in the website forums as well as being added in the Cry of Fear Halloween Community Collab campaign. This meme is also DragonNOR's current avatar in the website.

A reference to Minuit can also be found on the Half-Life 2: EP 2 horror mod, Grey. In a wall there's a graffiti that says "Minuit nerd".
Sporkeh was known as a troll on his time period with Team Psykskallar given his habit to comment first on some screenshot uploaded, followed by his comment being downvoted.