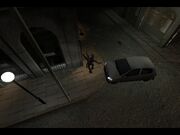 The Black Day is an event occurred in Cry of Fear. It was (or at least it is presumed to be) the day that Simon was victim of a hit-and-run accident by an unknown driver after trying to help a man lying on the sidewalk. After this, Simon's life would change forever. It is presumed that this happened the same day that Simon confessed his feelings to Sophie. The "Black Day" is mentioned in the corridor nightmare sequence.
In the Co-op Campaign, the cops manage to prevent this event from happening by arresting the car driver, although this ending is considered to be non-canon to the main story.
The Event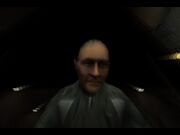 Simon goes back home (presumably from College) using the subway system. After walking a while, a man crawling on the sidewalk asks for help. Simon immediately proceeds to help him, only to hear a white car nearing him, pinning him on a wall. The car driver escapes and the man that was lying on the street is seen observing Simon, not helping him in any way (at least not from the player's perspective). After this, the police arrives along with an ambulance, possibly being called by the man on the sidewalk. Simon survives the hit-and-run accident, but he's left paraplegic due to the severe spinal damage on the accident, aside from the mental trauma he suffered that worsened his already deppresive state.
Diagnosis

Purnell's diagnosis on Simon. Heard in the Corridor Nightmare Sequence.
Simon becomes reclusive and spiteful of his life, taking big amounts of pills to "feel better". Doctor Purnell assists him as his psychiatrist, but his therapies are unsuccessful due to Simon's denial of talking about his personal life before the incident. Purnell suggests Simon to write a book as a cognitive therapy. Simon had to write his emotions and anxieties whenever he felt the need to do it. Simon does as instructed, starting the events of Cry of Fear.
---